Soles4Souls Volunteering
Tuesday, July 28, 2020
By: Rainey Niklawski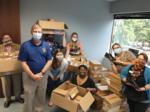 On very short notice, three members of our club, Richard, Glen and Wayne, helped Soles4Souls deliver shoes and socks to patients in hospice care. The teams at Heartland Hospice and Crossover Healthcare were very grateful to receive the donations, and we were very happy to have been able to lend a hand!
---
Speaker 7/21/20- Peter Kyle Rotary Director for Districts 33 and 34
Tuesday, July 21, 2020
By: Rainey Niklawski
We were pleased to welcome Rotary International Director Peter Kyle to our virtual meeting this morning. A Rotarian since 1976, he has been the recipient of many awards, including the Rotary Foundation Global Alumni Service to Humanity Award. Thank you, Director Kyle, for making time to talk about Rotary's role in COVID-19 relief, and some of your past accomplishments. We appreciate your inspirational presentation!
---
Speaker 7/7/20- Mary Dunne Stewart from Fit4Kids
Tuesday, July 14, 2020
By: Rainey Niklawski
Thank you to Greater Richmond Fit4Kids for talking to our club last week! We were so happy to be able to support their wonderful programs with a grant again this year!
---
Speaker 6/30/20- Lisa Graves w/ Chesterfield SAFE
Monday, July 6, 2020
By: Rainey Niklawski
The Midlothian Rotary Club donated a grant to
Chesterfield SAFE
to support their Sticker Shock program for 2020, and we were pleased to have Lisa Graves speak specifically about how the grant will support their efforts. Thank you, Lisa!
---
Students of the Year for Chesterfield County!
Monday, June 22, 2020
By: Rainey Niklawski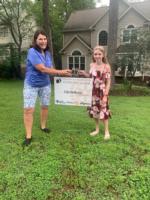 This past Saturday, our club put together award packages for this year's Chesterfield County Students of the Year. Two kids from every elementary, middle, and high school in Chesterfield County are chosen for this honor, and Midlothian Rotary Club feels honored to be able to celebrate these students. Thank you
Steam Bell Beer Works
for allowing us to utilize your space to package the 120+ awards!
---
Speaker 6/16/20- Kerry Blumberg of RMHC Richmond
Thursday, June 18, 2020
By: Rainey Niklawski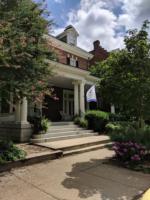 This week, our speaker was Kerry Blumberg- Executive Director of Ronald McDonald House Charities of Richmond! Our club was able to give away a $10,000 COVID-19 relief grant to a nonprofit incurring large expenses because of the virus, and we chose to help RMHC Richmond. Because of state regulations, families have been housed in hotel rooms at the expense of the organization, and volunteer programs temporarily suspended. The organization also needed some large safety upgrades in their 100 year old building to meet upgraded sanitation standards for families, volunteers and staff. Kerry spoke on behalf of the organization, but made it very clear that this was a relief to every staff member- on both the program team, who handles interactions and safety for families, and the development team, whose fundraising efforts had been shaken by the shutdown.
We look forward to participating in their volunteer programs as soon as we are able, and we are so glad to be making sure that families get the care they need while they have a child receiving medical treatment in Richmond.
---
Scholarship Award Winner
Friday, June 5, 2020
By: Rainey Niklawski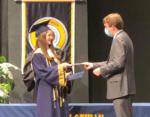 The Midlothian Rotary Club congratulates Midlothian High School graduate Ashley Manheim who, in acknowledgment of her service to our community as Interact Club President, is the recipient of the club's $1,000.00 scholarship award. Congratulations Ashley and best wishes for a successful future.
---
Speaker 5/26/2020- Patricia Green YMCA Richmond
Wednesday, May 27, 2020
By: Rainey Niklawski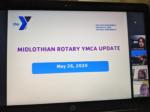 A big thank you to Midlothian Rotary club member Patricia Green, from the YMCA of Greater Richmond, for updating members this week with how the organization will be moving forward amid new restrictions and requirements. The YMCA of Greater Richmond has done a wonderful job pivoting their services to continue to provide for the community, and the Midlothian Rotary Club is proud to have assembled donations for their food drive and supported any way they can!
---
Curtis Marshall- Sleep in Heavenly Peace
Tuesday, May 26, 2020
By: Rainey Niklawski
Thank you to Curtis Marshall for talking to our club about what Sleep in Heavenly Peace does for the community and families!
---
Still Meeting, Safely
Tuesday, May 5, 2020
By: Rainey Niklawski
The Midlothian Rotary is still meeting, safely, through Zoom! It's so nice to see our club members every week, but we can't wait to see each other in person- hopefully sometime soon!
---
Week 4 Raffle Winners!
Monday, May 4, 2020
By: Rainey Niklawski
Congratulations to all our winners!
Day Winner Prize
Monday, 4/27 Leigh Rose - Sold by Monica Browning BPS 12 Ga Shotgun
Tuesday, 4/28 Paul Spraker - Sold by Chuck C. Zeiss Victory Binoculars
Wednesday, 4/29 Rusty Miller Winchester SX4 12 Ga Shotgun
Thursday, 4/30 No Winner - Unsold Ticket
Friday, 5/1 Roddy Davoud - Sold by Bob R. Savage Valkyrie Bolt Action Rifle

---
Week 3 Raffle Winners!
Tuesday, April 28, 2020
By: Rainey Niklawski
Day Winner Prize
Monday, 4/20 No Winner - Unsold Ticket
Tuesday, 4/21 No Winner - Unsold Ticket
Wednesday, 4/22 Shawn Etz - Sold by Donnie Ten Point Renegade Crossbow
Thursday, 4/23 No Winner - Unsold Ticket
Friday, 4/24 No Winner - Unsold Ticket
---
Raffle Winners Week 2
Monday, April 20, 2020
By: Rainey Niklawski
Day Winner Prize
Monday, 4/13 Hank Miller - Sold by Robley Yeti 210 Cooler
Tuesday, 4/14 Danny Ellis - Sold By Ryan B. Henry 45LC Lever Action Rifle
Wednesday, 4/15 Kim Jones - Sold by Mark Benelli 12 Ga Pump Shotgun
Thursday, 4/16 Monica Marks Kaku Kahuna Paddle Board
Friday, 4/17 No Winner-Returned Ticket
---
Week 1 Raffle Winners!
Tuesday, April 14, 2020
By: Rainey Niklawski
Congratulations to Week 1's Sportsman Raffle Winners!
Day Winner Prize
Monday, 4/6 Jim Riley Beretta 12 Ga Semi Auto Shotgun
Tuesday, 4/7 No Winner-Unsold Ticket
Wednesday, 4/8 Kirby Fitzwater - Sold by Beth Big Green Egg Medium Grill
Thursday, 4/9 Lee Keiger - Sold by Ryan B. Browning BL22 Lever Action 22LR
Friday, 4/10 No Winner-Unsold Ticket
---
Working to Mask the Virus
Monday, April 13, 2020
By: Rainey Niklawski
The CDC says we need masks, so Midlothian, Virginia resident, Kim, her mom Bretiss, and friends from Midlothian Rotary Club jumped into action. She has turned her home into the "Corona Covers by Kim" factory, giving sturdy, reusable, cloth-filter masks to friends, healthcare centers, and first responders.
They need funds for fabric, filters, elastic bands, thread, and ziplock baggies used to transport the masks. Kim & Company are volunteering their time and talents. Can we support them by taking care of the costs?

YES, we can!

Let's see how many masks we can make and provide to those who need them! $5 might help us make 5 masks! FUND MASKS HERE.

Any excess funds will be given to the non-profit Midlothian Rotary Club for our charity fund!
---
SAVE THE DATE - OCTOBER 10, 2020 - Magnificent Midlothian Food Festival
The 32nd annual MAGNIFICENT Midlothian Food Festival is bigger and better than ever, with 20 restaurants, local craft beer, Virginia Wines and more!
And again this year our event is on a Saturday with live music all day. All proceeds benefit local charities through Rotary International.
Upcoming Speakers